link rel="stylesheet" crossorigin="anonymous" href="http://ff.kis.v2.scr.kaspersky-labs.com/F1200EF8-36A0-6148-AF2D-B6A6DB814430/abn/main.css">
Jewelry by K.Nelson
Page 5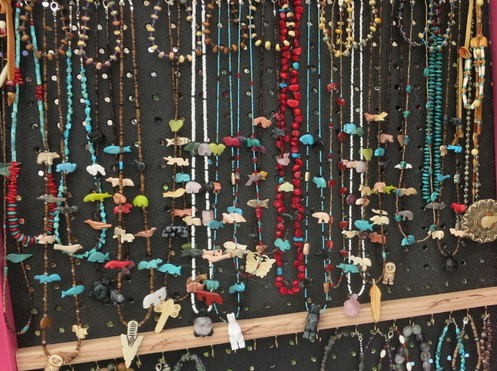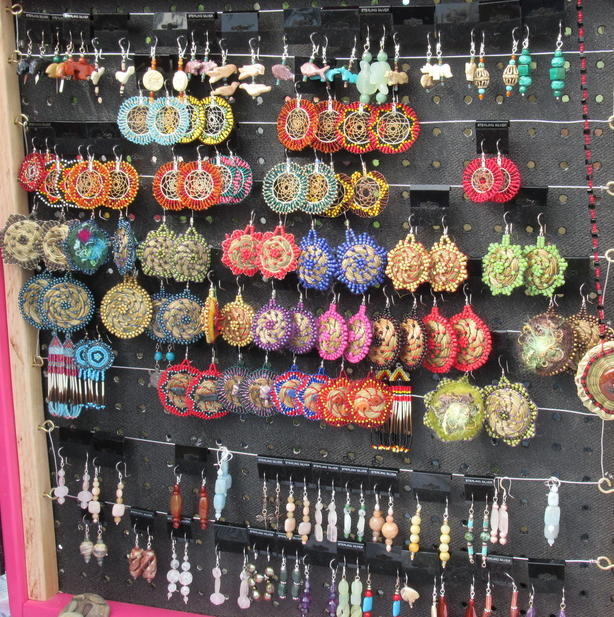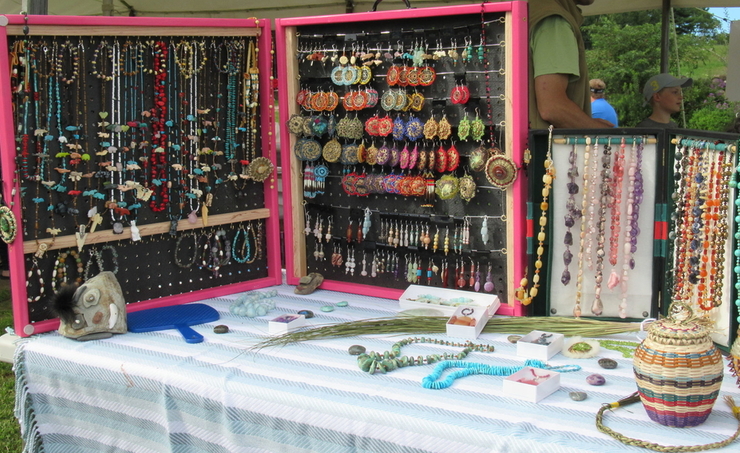 Review of Penobscot Basketry Film
Penobscot Basket Maker - Reviewed by Carol Toner, ME Studies, Univ. of ME, 2003.
In his latest film, "Penobscot Basket Maker", filmmaker Jim Sharkey has produced
a beautiful documentary that weaves together the life and artistry of Indian Island's
renowned basket maker, Barbara Francis. Displaying his skills in both filming and
editing, Sharkey presents Francis's work and her story with great sensitivity and
insight.
Barbara Francis's baskets have won honors at nationally recognized Indian art
shows, including Best of Show at the Lawrence Indian Art Show (1999) and 1st Place
in the 81st Annual Santa Fe Indian Market (2002). Displayed in many museums and
galleries, her baskets are remarkable pieces of art that reflect the long history of
Penobscot basket making. As Sharkey's film illustrates, her baskets also
reflect Francis's own history.
Born and raised on Indian Island, Barbara Francis left home as a teenager only to
face poverty and racism. When she returned to the island - alone, pregnant and
destitute - two older Penobscot women offered to take her in. They taught her to
make baskets, and at the same time they taught her about her heritage. These
women, and later her grandmother and other women, shared their skills with
Barbara, passing along the distinctive Penobscot basket styles. While basket
making became her life's work, it also brought her a deeper appreciation for
Penobscot history and culture.
Barbara narrates her life story while weaving her baskets, stopping to explain the
fine points of basketry - choosing just the right pieces of brown ash, alternating
light and dark shades of ash, weaving in a few rows of sweetgrass to make the
basket unique, and finally working in the fancy porcupine weave. Although the
baskets appear empty, she explains, they are full of history, tradition, culture and
spirituality. She points out the 'circle of life' created by the weave in the bottom of
basket. Just as her elders taught her how to make baskets, she is teaching the
next generation. It is her contribution to preserving the Penobscot Nation's culture.
Jim Sharkey has captured the remarkable beauty of the baskets and Barbara's
philosophical musings while also providing something of a larger historical
context through many still photos of Indian Island. His occasional use of Hawk
Henries exquisite Native American flute sound provides a lovely musical
accompaniment. It is Sharkey's attention to fine detail that elevates this film. For
example he focuses on the persistent sound of pounding as Barbara's husband
Marty prepare the ash, and then on the humming sound created as Barbara
quickly braids sweet grass stretched on the back of a chair. Like the baskets
themselves, the film is a carefully crafted piece that will help preserve the art
of Penobscot basket making.
More reviews are available at www.folkfilms.com
References to my basketry
Maine State Museum for permanent display 11/20/1997
Penobscot Times Article 11/1997
First Lady, Maine presented my basket to First Lady, Minnesota 6/98
Merit Award @ Lawrence Indian Art Show, Kansas 9/1998
Channel 7 Interview w/ my apprentice November 1998
Island Artisans Gallery, Bar Harbor, ME displayed my work 1999/200
Best of Show, 3D art, Lawrence Indian Art Show, Kansas 9/1999
Penobscot Times Interview 11/1999
Daughters of the American Revolution, Guest Speaker 10/2000
Boston Sunday Globe 9/17/2000 covering "Hands of the Ancestors"
The Patriot Ledger, covering "Hands of the Ancestors" 9/23-24/2000
South Shore Art Center, Cohasset, Mass. "Hands of our Ancestors"
an Assembly of Algonquin Artists 9/24 - 11/12/2000
South Look, Mariner Newspaper 9/27/2000 covering "Hands of the Ancestors"
Portland Sunday Telegram interview w/ Roberta Scruggs 12/3/2000
Round top Center For the Arts, Darmariscotta, ME. March 24th, 2001
80th Annual Santa Fe Indian Market, Second Place Class VI, Division C, Basketry
81st Annual Santa Fe Indian Market, 1st Place and Third Place, Basketry
Penobscot Times Article 10/03/2002 "Francis Baskets win 1st & 3rd"
Maine Sunday Telegram, 10/20/2002 "Prestigious Basketmaking Win"
Penobscot Times, 1/2/2003 "Local Man Makes Film on Penobscot Basketmaker"
5th Annual Heard Museum Indian Art Market, 2 Honorable Mention Awards 3/1&2, 2003
Penobscot Basket Maker"-The Film and Artist, ME studies Program, Women's History Month
Penobscot Basket Maker" featured at the Maine International Film Festival 7/11-20, 2003
"Crafting a Market", Maine Sunday Telegram, 6/29/03 Interview w/ Tux Turkel
"Visiting Scholar" for the Smithsonian's National Museum of American Indian 7/2003
"Barbara Francis makes basket after basket" Indian Trader Newspaper, NM 7/2003
82nd Annual Santa Fe Indian Market, Third Place, Class VI, Division C, Basketry